Main content starts here, tab to start navigating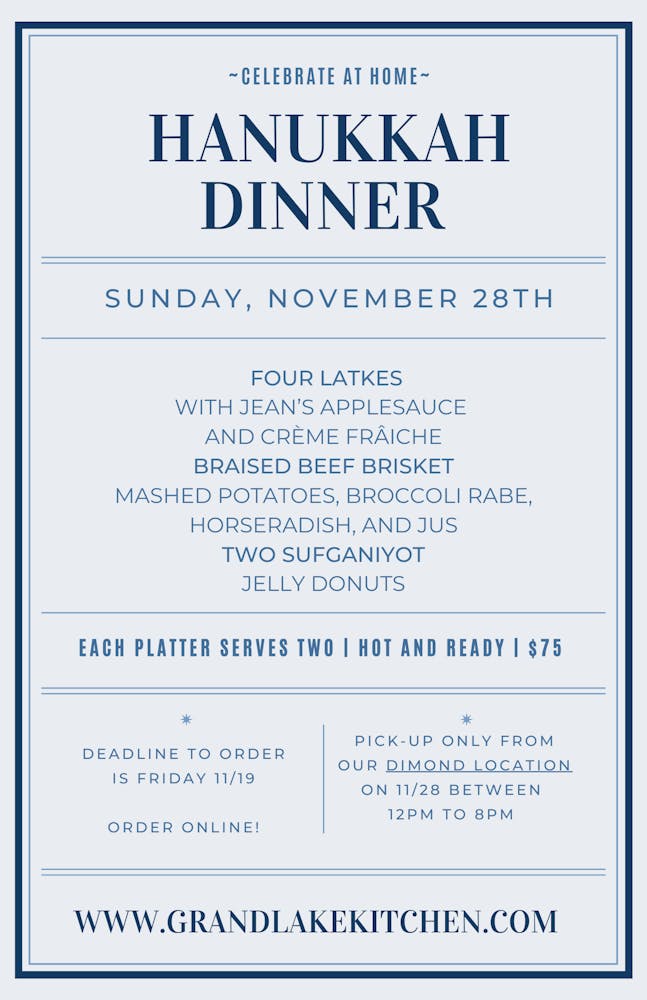 pre-order | serves two | hot and ready | can be warmed up in the oven or stove top | served in a platter $75

PLATTER contains:
FOUR LATKES - with jean's applesauce and crème frâiche
BRISKET - mashed potatoes, sauteed broccoli rabe , horseradish, jus
SUFGANIYOT - jelly donuts for 2
Please read carefully:

- Pick-up at GLK Dimond Location on Sunday 11/28 between 12pm and 8pm
2042 MacArthur Blvd, Oakland. There is no delivery option.
- The ordering software has limitations! Please be sure to select 11/28 and a time between 12-8pm. Orders are only made on the hour (ex. 6pm, 7pm, etc). Please do not place an order on the half hour.

- Please allow us a 15 minute window after your scheduled pick up time to have your order ready
- Due to the volume and nature of this pre-order, we are not able to make modifications to the menu
-Deadline to order is Friday 11/19 - we have limited quantities at certain hours, please order early if you can!
Thank you! and Happy Hanukkah!